POLISH RACER CIERNIAK DEFIES DRAMATIC FINISH TO SEAL FIM SGP2 TITLE DOUBLE IN VOJENS
16/09/2023
Double FIM SGP2 world champion Mateusz Cierniak admits he feared he would "lose everything" after holding on to retain his FIM Speedway Under-21 World Championship in dramatic style in Vojens, Denmark on Friday.
Cierniak led an unforgettable Polish one-two-three on 49 points with Jørgen Hansen Biler FIM SGP2 of Denmark – Vojens winner Damian Ratajczak, who topped the podium in the final round to snatch silver on 45. Bartlomiej Kowalski took the bronze medal on 42 – pipping Australian Under-21 champion Keynan Rew (41) to third place by one point.
Lublin and Lejonen racer Cierniak went into the Vojens round with a 10-point lead over Rew and Kowalski, and the Tarnow-born star just needed to avoid last place in semi-final one to seal the SGP2 crown. But disaster struck when Cierniak's front wheel caught the bottom tape, with referee Craig Ackroyd forced to disqualify him from the re-run.
Victory in the final for either Rew or Kowalski would have seen the title snatched away from Cierniak, who won the opening two rounds in Prague and Gorzow – the second of those with a sensational seven-ride maximum. But both riders finished third in their semi-final, missing out on qualification for the final, handing gold to a very relieved Cierniak.
The 20-year-old is only the fourth double FIM Speedway Under-21 world champion in history, following in the footsteps of former world No.3 Emil Sayfutdinov, Aussie icon Darcy Ward and Polish star Maksym Drabik.
Despite being tipped as red-hot favourite to grab gold, Cierniak feared his tapes slip-up had cost him junior speedway's biggest prize.
He said: "Everyone was telling me over the last few weeks, 'Oh, you have it! No-one will take this from you.' But I was telling everyone, 'Keep calm, I still have a lot of work to do.'
"This competition was very difficult. There was a lot of pressure, a lot of stress and I had every emotion. I was sad, I was happy, I was angry – everything. I wanted to cry! It's just unbelievable what happened.
"In my mind, this very short moment before the tapes went up in the semi-final was very long. I was waiting, waiting and maybe I was a little bit too nervous.
"When I hit the tapes, my first thought was, 'Oh, my God! We have worked all season for this, I hit one tape in this heat and now it's possible to lose everything.' For sure, luck smiled on me and Bartek and Keynan had pressure too. They knew what was at stake and now I have been working for all season."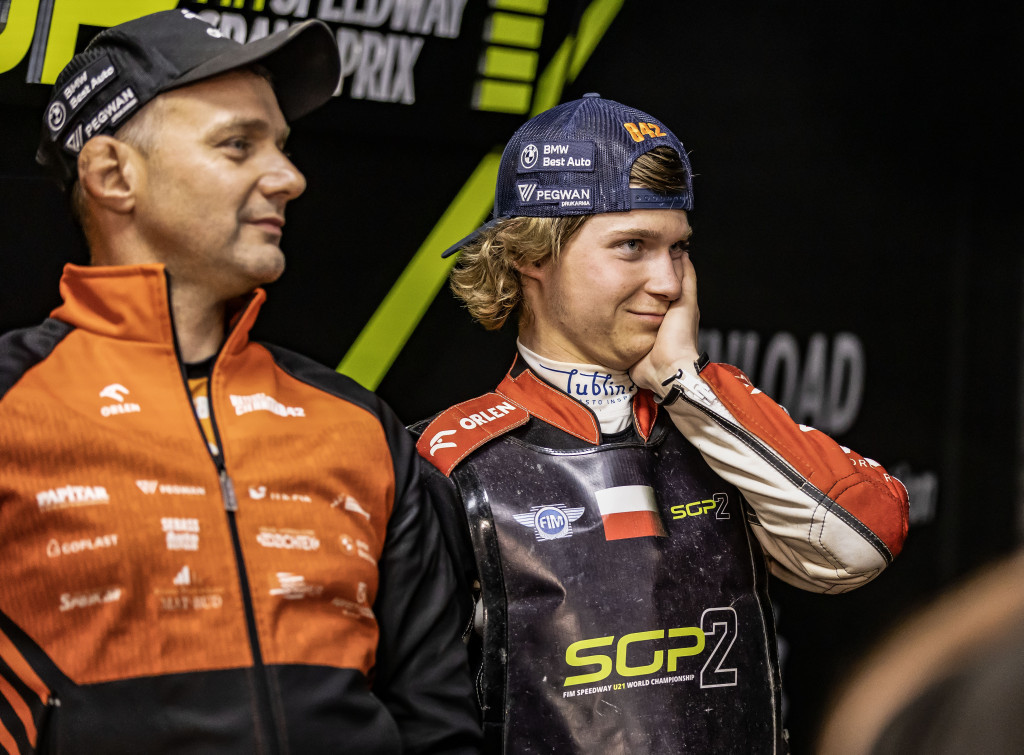 An emotional victory for Cierniak. PHOTO: Taylor Lanning
Cierniak graduates from the under-21 class at the end of this season and is now setting his sights on Speedway GP qualification in the years to come. But he is not ready to rush such a big step in his burgeoning career.
Asked about his Speedway GP ambitions, he admitted: "Of course I want to be there, but now I don't think I have enough experience. But for sure that's my next destination."
Reaching Speedway GP would pit Cierniak against Zmarzlik. The Polish icon, who could become a four-time world champion in Saturday's DeluxeHomeart FIM Speedway GP of Denmark – Vojens, broke off from his preparations to support Cierniak in the SGP2 pits.
Cierniak was pleased to have his Lublin and Lejonen teammate's input through the biggest meeting of his career so far as he benefitted from the experience of performing on the same stage the Speedway GP stars will grace on Saturday.
He said: "We speak about everything during the meeting. He has more experience than me. For him, being here helps a little bit too. We were speaking about what we must do and what we can do with the bike, the setup and my mind too. This was a pleasure for me, when Bartek was in the pits with me, so thanks to him for that."
Action aplenty in Vojens. PHOTO: Taylor Lanning
Cierniak was delighted to share the podium with international teammates Ratajczak and Kowalski.
"This is very cool," he said. "Bartek and I started racing together in Tarnow. It's very good to stand on the same World Championship podium as him. I also want to say congratulations to Damian.
"It's great for the national team and our country and it's beautiful for Polish speedway. It's a good day for us."
Ratajczak was delighted to realise a racing dream and become an FIM SGP2 silver medallist. He said: "I don't know what to say now. I am very happy. Being here was my goal when I started to race speedway. It was a very good night for me. I did it!"
Kowalski had a very turbulent day after crashing during the Vojens practice session early on Friday afternoon, so he's elated to have bagged the bronze medal. "I am really happy," he said. "Before that meeting, I would have taken a bronze medal after the practice session for sure. I wasn't very satisfied with the practice, so I am very happy that I am sitting here with the bronze medal.
"We have a Polish podium tonight with Mateusz and Damian. Big congrats to them. I remember when I started racing with Mateusz in Tarnow. We were both 12 years old and that was a great time. It's great to be together again on the Polish podium."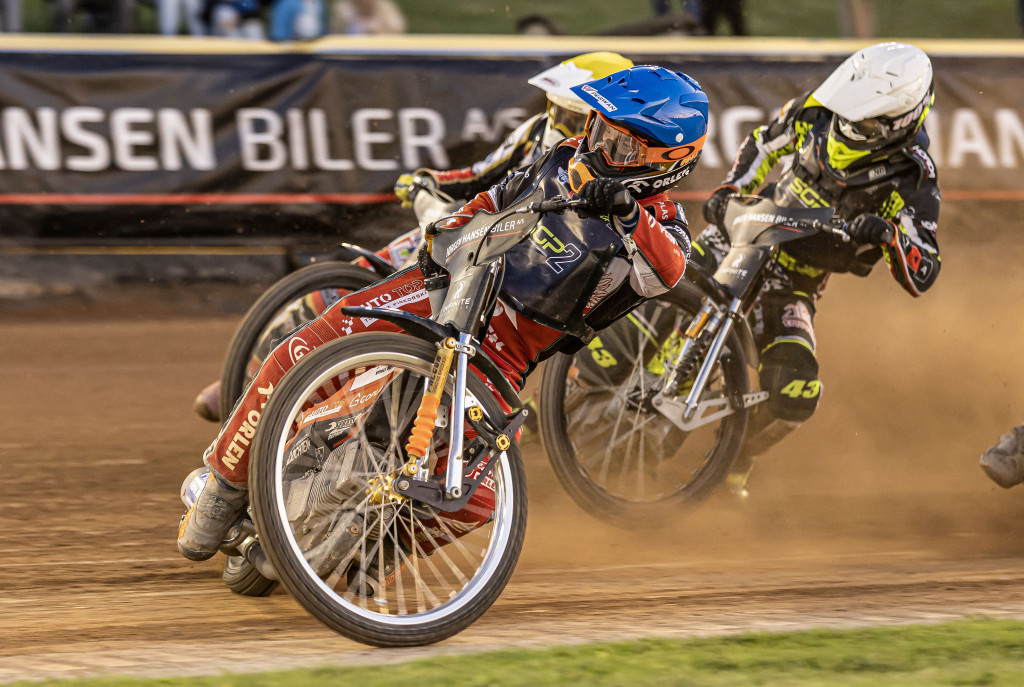 Cierniak battles it out at the front. PHOTO: Taylor Lanning
Jørgen Hansen Biler FIM SGP2 of Denmark – Vojens runner-up Casper Henriksson was delighted to end his series with a second straight final appearance – taking fifth place in the championship. This was some feat after he scored just one point at round one in Prague.
He said: "Of course it's better to think about this meeting than the first one, which didn't go so well. Throughout the series, I got better and better and I am really happy with the result now.
"I have taken slow steps every time and in every meeting. It's going the right way and hopefully it stays that way."
Jørgen Hansen Biler FIM SGP2 of Denmark – Vojens top three Damian Ratajczak (centre), Casper Henriksson (left), William Drejer (right). PHOTO: Jarek Pabijan
Danish racer William Drejer started the night as first track reserve – meaning he would only race in the event of the main 16 riders in the field suffering an injury or committing a starting offence.
He scored eight points from four rides – one outing less than the main 16 – to book his place in the semi-finals, before charging to a jaw-dropping third place in the final.
Drejer was stunned to have played such a stellar role in the meeting. He said: "In the morning, I expected maybe two heats. I could only dream of this right now. There was no pressure on me. I just took it one heat at a time.
"Danish team manager Nicki Pedersen told me to do my best to make the starts, and if I didn't get there, just use my brain. I tried to do that and hopefully I did it well. Getting into SGP2 is my goal for next year."
An epic weekend of racing continues with the DeluxeHomeart FIM Speedway GP of Denmark – Vojens on Saturday night.