FIM SPEEDWAY STARS OF THE CENTURY | OLE OLSEN
13/09/2023
Father of Danish speedway, Ole Olsen put Denmark on the FIM Speedway map when he became the nation's first world champion in 1971.
The three-time World Final winner has since managed his country during their decade of dominance in the 1980s, before launching the FIM Speedway Grand Prix series in 1995 and bringing speedway to some of the world's most famous areas.
As speedway celebrates 100 years of racing, PAUL BURBIDGE caught up with a man who has changed the sport forever – and built the iconic stage for Saturday's DeluxeHomeart FIM Speedway GP of Denmark - Vojens …
Firstly Ole, I would like to find out more about how your racing journey started. How did you get into speedway?
"That goes back a long time. In Denmark, we didn't have so much regular speedway. People raced on flat dirt tracks and the tracks varied in sizes. They raced on 250cc and 500cc standard bikes. Then there was a sidecar competition and the expert class – five or six senior riders, who did three or four heats. It was all mixed up in one big day. In the end, they also had cars on the track – Mini Coopers. That was how I started in my local town Haderslev.
"When I was about seven or eight, I was out there with a rake. They had two meetings per year on the track. The kids came out and raked the track because it was a farmer's field. There were cows feeding there. When these meetings came – one in the spring and one later in the year – we had to rake the track and help to put hay bales up as fencing. They gave us a free ticket as payment and that's where it all started.
"My idol in those days was Arne Pander. He was very fast around these tracks. They had some handicap racing as well – some of the riders were on the third turn when others were still at the starting line. He did five laps and passed them all. I thought he was fantastic.
"When I got older, I delivered newspapers in the morning. I went to school and then after school, I had a job delivering groceries. That's where I met one guy, whose father had a garage on my route. One day, I rode up there on the bike to deliver some groceries and I saw this guy come out from the side of the garage, spraying dirt as he rode this 175cc bike.
"He came out and asked, 'Do you like this?' I loved it. The guy let me sit on the bike. I was 14 then and he said, 'If you like this, you should be a member of Haderslev Motorsport (HMS), and then you can ride these bikes.'
"There was a new class coming – a junior or novice one. I went home and told my parents I wanted to do motor racing and they looked at me, thinking I was nuts and asked me how I would get the money."
You got into some trouble in your younger days, and it nearly ended your motorcycling career before it started. What happened?
"I got into a bad crowd. We used to 'borrow' some petrol for our bikes. We led under cars in the parking spots and drew petrol out of the tanks. Then the police got involved with that. They caught us. It only happened a few times, but that's what changed things.
"My parents told me I couldn't ride. But then one day my mother said she wanted to talk to me. She told me that if I could get out of this world with these bad people I was mixing with, I could save money and buy a bike and try motorcycle racing if I wanted. I said, 'Oh, thank you! I will do that.'
"I found new mates and really worked to save some money. I bought a bike when I was 15 – this old 175cc Husqvarna. I took it out in a quarry close to us and rode it there until the tank was empty. That's how I got into it, and I got into this motorsport club. It took off from there.
"In 1963, I got a licence. You had to be 16 to have a licence. I started in 1964 and in 1965, I could start on the 500s. I saved money to buy a Jawa speedway bike. That's when I started that, and I won the Danish Junior Championship in 1965."
Ole Olsen collected his first world title at Gothenburg's Ullevi Stadium in 1971, beating second-placed Ivan Mauger and Bengt Jansson in third
Tell us about your first experiences of racing in the UK. Where did that start?
"I went to the British/Commonwealth/Scandinavian Final at Sheffield in 1966. That was the first time I had been to Britain. I was very impressed, and it was fantastic to be there.
"In 1967, there were about eight young riders then in Denmark and we all moved up to senior level. The Danish Motor Union had been contacted by British promoter Mike Parker to offer us a training school.
"I think they were looking to get some foreigners into Britain for the league. They amalgamated the Provincial and National Leagues in 1965 and all of a sudden there were 18 or 19 teams in one league.
"I went over to that training school in March 1967 and that's when I came to Belle Vue and met Ivan Mauger – before he became a six-time world champion. He was European champion at the time.
"It was tremendous to meet him, and he was a fantastic coach. We had this training school for a whole week. It was a totally different world for us, but I loved every minute of it. I was very keen and rubbing shoulders with Ivan all the time or working closely with him to understand what was happening. None of us could really speak much English.
"I got home and then Mike Parker invited me to come over and race for Newcastle on a professional contract. A couple of boys were invited. Kurt Bogh was invited along with another guy. They were better than me. I had a bit of trouble with my bike; it was getting old.
"Parker wanted Kurt Bogh. He didn't want me. But Ivan said, 'If I have to train someone, it has to be Ole.' That's what Ivan told me later. Parker told me he wasn't quite sure, but Ivan insisted it was me. I was very pleased with that. I came over and he looked after me."
You raced your first FIM Speedway World Final in Wroclaw in 1970, finishing 10th, before winning your first world title in Gothenburg in 1971. How much of an impact did this have on the sport at home in Denmark?
"They were all watching it on television in Denmark. They wanted to see this guy who was taking on the world and won the World Championship in 1971. The whole nation was in uproar and had to watch this on TV. They only had one TV channel then.
"We had 18 tracks built to run speedway in Denmark from 1971 until 1975, when I built Vojens.
"They only ran speedway – they didn't run all these cars and sidecar sports. Everything was more focused on speedway.
"All the sidecar boys and the ones with the 500cc road bikes were unhappy because they thought I ruined their sport. Then it was all about speedway. We promoted the sport a lot there and it was a fantastic time."
Ole Olsen phones home from Wembley to tell Denmark he's 1975 FIM Speedway world champion
You took full advantage of speedway's growing popularity in Denmark and constructed your own track, the now iconic Vojens Speedway Center – widely regarded as Denmark's national speedway stadium. What prompted you to build it?
"We always had to go out of the country to compete. I always raced the qualifying rounds for the World Championships with 12 Swedes and a couple of Norwegians. We always had to race on Swedish tracks or somewhere else because we didn't have a track in Denmark good enough for the World Championship qualifying rounds, so I decided I would build one.
"I told (my manager) Pete Adams I wanted to build a track – I wanted something that was 300 metres and this and that. He drew it up.
"Five or six local councils in Denmark were all screaming to have it in their area when news got out that I wanted to build a track. They offered me everything – 'You can come here!' It ended up at Vojens because it was next to the airbase, and I thought we would have no noise problems there.
"We built the track there and we started work in 1974. I shipped the shale in from Britain on boats because I wanted it to be the right stuff."
What are your memories of the opening night on September 21, 1975?
"We had 38,000 people there. There were 60,000 trying to get into the stadium. The motorway queues went back 25km from Vojens.
"Buses were just turned back on to the motorway and sent home again. There were people sitting in buses in Haderslev, who never saw the meeting. We couldn't get any more fans in. The police had to stop people.
"People wanted to get into the stadium, but they couldn't see anything. They were standing behind the grass banks around the stadium.
"It was a fantastic event. What an opening it was! I couldn't believe it. The whole country wanted to come and see me on home ground on this track we had built. It was just a couple of weeks after I won at Wembley on September 6, so the message got out alright!
"They called Vojens 'Little Wembley.' If you hadn't won one of the big meetings that we staged at Vojens, you hadn't won anything. It became well known across Germany and Poland. They all talk about Vojens. It's a village of 12,000 people!"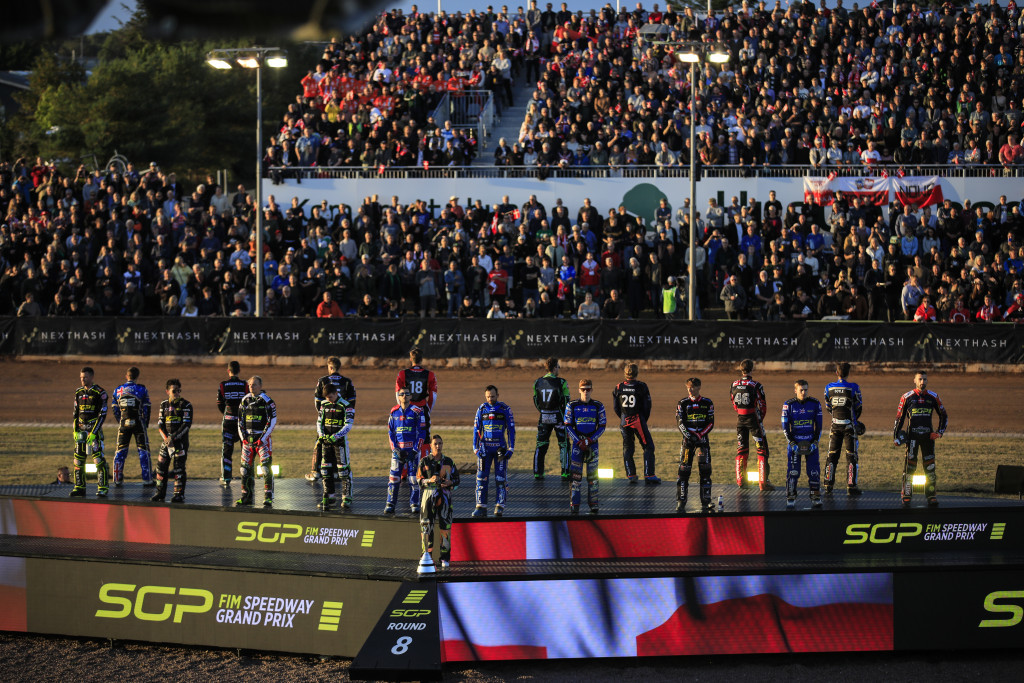 Vojens Speedway Center packed for the 2022 FIM Speedway GP of Denmark
You won your final world title at Wembley in 1978 and it was also the year Denmark won its first FIM Speedway World Team Cup – the first of many as your country dominated in the 1980s. What changed to put the Danes on top of the world?
"We won medals in the World Pairs in the 1970s – silver and bronze because I didn't have a partner who did any good at that time. They didn't have the experience during the seventies.
"Then we had these good boys come through, I got close to them and some of them made it to Britain. We won our first World Team Cup in 1978 at Landshut in Germany. Then we just kept rolling.
"Hans Nielsen and I won the World Pairs in 1979 at Vojens. The riders grew up and became better and better. We had some good team spirit and I worked with the riders a lot.
"When I stopped riding in 1983, the DMU asked if I would be the team manager. I said, 'Of course! I'll do that.' I never got paid for it. I did it just for the sport. It was great to be involved."
Ole Olsen led Denmark to the nation's first FIM Speedway World Team Cup at Landshut, Germany in 1978
It's well documented that you had a turbulent relationship with four-time FIM Speedway world champion Hans Nielsen during your spell as Danish national coach, with Hans suggesting that you did more to help his arch-rival, three-time FIM Speedway world champion Erik Gundersen. The three of you get on fine now. But how did you see it at the time?
"I did the same for everybody. Hans wanted to stop me being team manager. He always wanted me to call all the riders together and say the same thing to everybody. That doesn't work. Riders are different human beings and different people. Erik needed advice one way and Hans may have needed it another way. That's how it is.
"Erik came and asked me if I would help him. Hans could have just asked, but he didn't. He just wanted to stop me so that I didn't help any of the others. Hans wanted to be the No.1. It didn't matter if one of the Americans or anyone else beat him, as long as he was the best Dane.
"We have seen this many times. We have always been strong when we have three or four Danes in the World Final. They could be one, two, three and four on the rostrum because they just didn't like losing to each other.
"You see it today in the Grand Prix. Leon Madsen, Mikkel Michelsen and Anders Thomsen are giving everything to beat the other Danes when they are in the same heat. They want to be the best Dane. It really lifts them all, but with Hans, it got out of hand. He just wanted to stop me."
Nielsen and Gundersen had possibly the most talked-about rivalry in speedway history. Do you feel this helped to raise the sport's profile in the media?
"The big newspapers took sides – some were on Erik's side and others were on Hans' side. They were all desperate to see their man win. I was helping Erik, but that didn't stop Hans from passing or beating Erik.
"The journalists always went one way. They had favourites. It was like each rider had their fans.
"Some just wanted to make sure I got knocked down because it couldn't be right that we had all this success and it kept going. They had to find something they could criticise. Another paper thought that what I did was brilliant. This is where they had favourites. They weren't neutral.
"But it lifted the riders. They couldn't stand each other, Erik and Hans, and that's why they were first and second in the World Finals for three or four years."
Arch-rivals Hans Nielsen and Erik Gundersen
You worked closely with the FIM Track Racing Commission (CCP) as a rider representative during the 1970s, and this relationship continued into the 1990s, when you launched the FIM Speedway Grand Prix series. Tell us how that came about?
"I had a meeting with the CCP and told them we had to change the sport a bit. Jos Vaessen, the FIM president in those days, was keen on the Grand Prix system. I told them that was the way to go forward.
"Then, I remember the CCP had a meeting in Dublin in 1993. While we were having a big dinner and party, someone told me FIM president Jos Vaessen wanted to talk to me. I went up to him and he said, 'Can you run the last World Final at Vojens in 1994?'
"He told me that then I could sort out the Grand Prix series. We discussed some ideas, and he told me we could get that started in 1995 if I could get the TV production sorted, and we could start with six GPs.
"That's when I started to build that up. It was fantastic, but it was hard work, finding some sponsors and things like that. It was hard with TV, but I was lucky I had good people in Denmark – Nordisk Film and TV2 supplied the crews, travelling around and filming it all. I had to find the sponsors and that was a bit of a job. I did this for five years."
What did you hope the Speedway GP series would do for the sport that the old-style one-day World Finals could not?
"I remember reading the legendary boxing promoter Don King's book. He said that promoting is about moving forward, creating things and building profiles. They were the three goals I went for. I told the CCP this is what we needed to do and then it was, 'How do we go forwards?'
"The sport was dropping, and tracks were closing. We knew something had to happen with the sport. That's when I said we had to change some things. We needed to build profiles. We needed to move forward and create things. We needed people to see the riders on TV and want to go and see them race.
"The problem was we had a lot of talk around the World Final for a month before and also a month after it. But after that, it was just league racing, and no-one talked about speedway. Now they know the riders are racing in two weeks' time and they remain in the spotlight all year.
"When the World Finals ended, some said, 'It's the end of the sport.' I think it saved the sport. Speedway GP has saved speedway in terms of the World Championship events. That is for 100 percent sure."
Your innovations have changed the sport we love forever. Congratulations on an incredible contribution to FIM Speedway!
Ole Olsen in action in 1974