POLISH HERO ZMARZLIK'S COUNTDOWN TO SPEEDWAY GP WORLD CHAMPIONSHIP GLORY IN TORUN
01/10/2023
Polish icon Bartosz Zmarzlik admits he was counting the hours as he held his nerve to become a four-time Speedway GP world champion at the DeWalt FIM Speedway GP of Poland – Torun on Saturday.
Zmarzlik becomes only the seventh rider in the sport's history to win four or more FIM Speedway world titles, joining six-time champions Tony Rickardsson and Ivan Mauger, five-time winner Ove Fundin and fellow four-time champions Barry Briggs, Hans Nielsen and Greg Hancock in a very elite club.
The 28-year-old is the fastest rider in history to win his fourth world title, and Zmarzlik made more history in Torun as his victory in the DeWalt FIM Torun Speedway GP saw him match Aussie legend Jason Crump's series record of 23 SGP wins – a mark Zmarzlik will bid to surpass in 2024.
The three-time Monster Energy FIM Speedway World Cup winner went into the title decider at the Marian Rose Motoarena with just a six-point advantage over Swedish rival Fredrik Lindgren.
This was after he was disqualified from the DeluxeHomeart FIM Speedway GP of Denmark – Vojens on September 16 for wearing a race suit which did not comply with the 2023 Speedway GP regulations.
Roared on by a partisan Polish crowd, Zmarzlik bounced back by reaching the final in Torun, where he faced off with Lindgren, who needed to win the race with Zmarzlik last – just to force a run-off for the gold medal.
But Poland's greatest-ever speedway rider made the start of a lifetime in the final, sending the Torun crowd into a frenzy with every turn of the wheel as he triumphed ahead of Lindgren, Danish racer Leon Madsen and Poland's Patryk Dudek to write another glorious chapter in his storied career.
Zmarzlik sends Torun wild as he crosses the finish line. PHOTO: Taylor Lanning
Following his Vojens disqualification, Zmarzlik admits he had even more motivation than normal to take victory.
He said: "It's the first time in my career I have felt, 'I must do this.' Normally it's always, 'I can do this.' Never must. I feel like this because I felt a little bit bad after what happened in Vojens – my mistake, 100 percent. It was really bad for my results and the situation ahead of Torun.
"When I woke up today, all the time I was looking at my watch – 12 hours to go, 11 hours, 10, nine. I didn't know in the morning what would happen today. But now I feel like the happiest man in the world – really."
Zmarzlik is also elated to have matched Crump's Speedway GP victory record, but declined to be drawn on how many he might go on to win. He said: "I am very happy about this also because that's 23 times I have won a GP. That's also the next level for me, which is really nice.
"How many more will I win? We don't know. We don't know what will happen next year and in the future. Always when I go to the track, I want to win every heat. I always feel like this."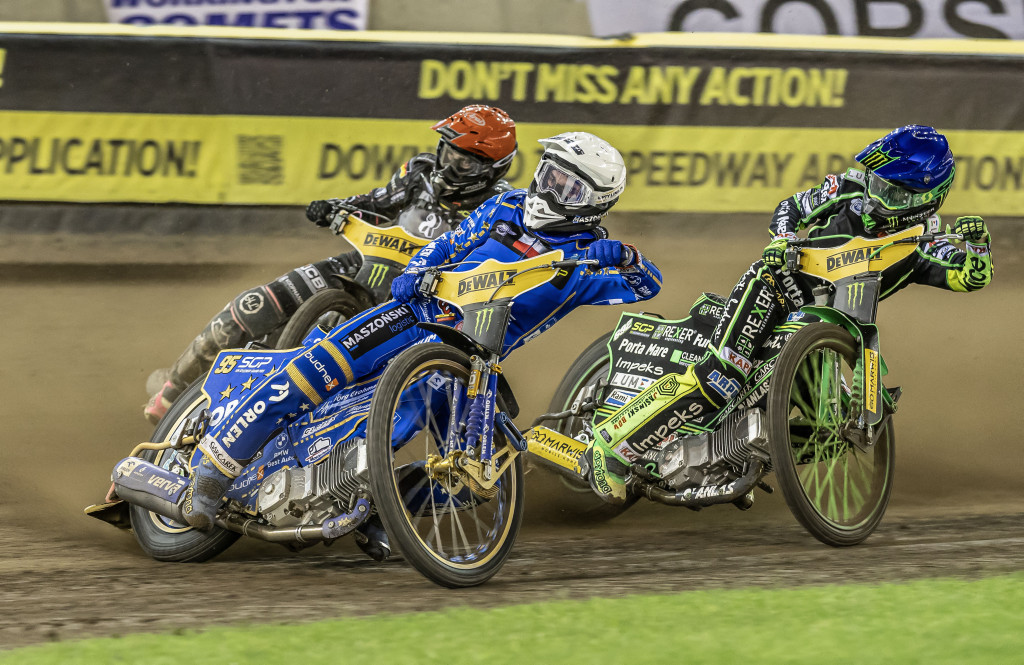 Zmarzlik in the thick of the action. PHOTO: Taylor Lanning
Zmarzlik bids for Speedway GP world title No.5 in 2024, but thoughts about his quest to become one of the top-four champions of all time can wait.
"I don't look at next year now because I am happy with what I am feeling today," Zmarzlik said. "Of course, I am maybe going to go on holiday with the family now. Then I will go home and start thinking about next season. One hundred percent, I will work with my team and family to make everything good for next season. I will try my best again."
Speedway GP World Championship runner-up Lindgren was delighted to finish in the series' top two for the first time, having won two bronze medals in 2018 and 2020. He only fell short of silver in 2020 after a run-off with Great Britain racer Tai Woffinden.
The Orlen FIM Speedway GP of Poland – Warsaw winner is proud of an unforgettable season and is determined to build on it as he chases the sport's biggest prize again in 2024.
He said: "I am very, very proud of my season. I have been very consistent this season. I have made most of the finals and this is my best finish so far in my career. I am very proud of that.
"I still have a lot of motivation. I really feel I can get better and develop myself. I have a lot of motivation to do it. I am going to work really hard in the winter and hopefully come out of next year better than this year. That's my aim and we will see if it happens."
Lindgren storming to silver. PHOTO: Taylor Lanning
The bronze medal was won by Slovakia's Martin Vaculik, who saw off Aussie ace Jack Holder by two points to take the final spot on the podium, winning his and his country's first Speedway GP World Championship medal.
He said: "I am so happy with this bronze medal. It is an historic moment for Slovakian speedway. I am so pleased and happy with that.
"I would like to say thank you to my family, my team, my tuners, my club in Poland (Gorzow), all my sponsors and supporters. I am so happy to have these people around me.
"At the same time, I would like to congratulate Bartek because he showed he's a really big champion and respect for that. Big congratulations for him and to Freddie – he really showed he's an amazing, great rider. I'm so pleased I can be here next to these boys."
Speedway GP bronze medallist. PHOTO: Jarek Pabijan
Despite falling just short of bronze, Holder joins Zmarzlik, Lindgren and Vaculik in qualifying automatically for the 2024 Speedway GP series. The final two top-six automatic qualification places went to Madsen in fifth and Great Britain racer Robert Lambert.
They are joined by Speedway European Championship winner Mikkel Michelsen, plus Aussie ace Jason Doyle and Poland's Szymon Wozniak, who qualified at the FIM GP Challenge in Gislaved on August 19.
Vaculik also reached the rostrum to secure qualification in Sweden, but with the Slovak finishing in the Speedway GP World Championship top six, his qualification place from the Challenge passes to Czech racer Jan Kvech, who was fifth in the Challenge. He becomes the first full-time Czech Speedway GP rider since Lukas Dryml raced in the 2008 series.
The 2024 Speedway GP line-up will be completed by five permanent wild cards, selected by the SGP Commission with news to follow soon.