FIM SPEEDWAY STARS OF THE CENTURY | TAI WOFFINDEN
28/08/2023
With three FIM Speedway Grand Prix World Championships and an FIM Speedway of Nations gold medal, Tai Woffinden is already Britain's most successful speedway rider.
As he heads to Cardiff seeking his 12th Speedway GP win this Saturday, he looked back on an incredible ride to the top of the sport as part of our FIM Speedway Stars of the Century series. PAUL BURBIDGE caught up with him …
Firstly Tai, we need to talk about Cardiff. We're just days away from the FIM Speedway GP of Great Britain – Cardiff this Saturday. How much are you looking forward to Britain's biggest indoor motorsport event at Principality Stadium?
"The British GP is such an amazing event. The Warsaw GP and the British GP have this thing where they compete over which one is better. But there is something about Cardiff and the atmosphere.
"It's a pretty big one for me being a British rider and having all my corporate partners come down and bring their guests. There is always a lot of work to do in Cardiff, but I have a great team around me, and we make it run as smoothly as we can.
"I have always said it is the best one on the calendar. I haven't won it yet, so it would be nice to get a win there. That has kind of evaded me over the last however many years I have been racing. But we'll see what happens on Saturday."
What is it that makes the Cardiff weekend so special?
"Just everything – there isn't one specific thing. It's obviously my home GP, but there is something special about the atmosphere at the British GP. It's amazing being inside the stadium with all the British fans and having all the noise they bring.
"When we leave the stadium after practice on Friday, the streets are full. The Principality Stadium is right there in the city centre. As soon as you walk out of the stadium, the pubs are packed, and the city is busy. It just has a really nice buzz about it, which no other GP on the calendar has."
Woffy meets the fans in Cardiff
As part of our Stars of the Century series, we like to find out more about how our great champions' speedway journeys started. I understand you spotted a bike at a family friend's house, and it caught your eye …
"Yeah, we went there to ride motocross. It was Daniel and Trevor Harding's house. The Harding brothers raced for King's Lynn in the UK.
"We were riding motocross in the garden on their track and then when we finished, I saw a speedway bike tucked away in the corner. I looked at Dad and said, 'Can I have a go at that?' He said, 'Oh, you'll have to sell your motocross bike if you want to do that. We can't do both.' And that was it!"
What were your first impressions of the sport?
"It was definitely different from motocross. They had an Australian Under-16 Championship the weekend after we bought the bike, and they didn't have enough riders, so they basically said, 'If you can do a start, you can race in that meeting.' I bought a bike, and a week later I was racing the Australian Under-16s. I probably finished last!"
Woffy in Speedway GP action. PHOTO: Taylor Lanning
Along with your parents Rob and Susan, you made the decision to swap life in Perth for moving back to Britain to pursue your racing career. That must have been a huge decision because it sounds like you had a great childhood in Western Australia …
"Yeah, it was probably the best childhood my parents could have given me. That was the reason they moved to Australia, to give me a better upbringing. I didn't have to go through the English schooling system. I had more of an outdoor life and everything that comes with living in Australia.
"I was very lucky they made that decision, and it was a lot to leave Australia, especially for me, being a 15-year-old. I was having fun with my mates, partying, being a menace, riding my BMX and surfing before and after school. I did everything when I was a kid, so to stop doing all that and go to Europe was tough. It was a tough sport to get into because I didn't really know what it was all about.
"I also broke my leg before I came out. I jumped an electric fence, trying to go somewhere I shouldn't have been, and it zapped me and flipped me off. I came over to Britain with a broken leg!"
What were your first impressions of British speedway after making the move back? Did you think you had done the right thing at the time, or did you take a while to settle in?
"It probably took a while to figure it all out. I was just riding. I remember going to Sam Ermolenko's farewell meeting at Wolverhampton in March 2007. It was snowing on the way, and it was freezing cold.
"Then I was thinking, 'What are we doing here?!' But I kind of trekked around all of the tracks and tried to get by financially."
That cannot have been easy after you and your parents uprooted from Australia. Was life in the UK a challenge financially at first?
"My dad had his own car yard in Australia, and I think Mum was a nail technician at the time, like a beauty therapist. She used to do make-up, nails, massages, hair and all that sort of stuff.
"They had to put their lives on hold, and we all went to Britain together. There was no income coming in; it was all expense from March until August. Then in August I turned 16 and started racing. I started to put a bit back in the pot then."
Considering that they had given up so much for you to chase this dream, did you feel any extra pressure to make speedway work as a career, or did they never put that pressure on you?
"No, there was no pressure at all. It was just a family vacation!"
Woffy leads the charge in Prague. PHOTO: Taylor Lanning
You started racing with Scunthorpe in the British Conference League in 2006 and then stepped up to the Premier League – now known as the Championship – with Rye House in 2007. Then you had your first season in the Elite League – now the Premiership – with Wolverhampton in 2009.
That was the year when you received the news that your dad was battling liver and pancreatic cancer. At what point did you first find out there were concerns over his health?
"I stayed in England for the winter and Mum came back on her own. She was quite upset, but she wouldn't tell me what was going on. I knew around March 2009 that something was going on.
"Dad stayed in Australia to have his tests done. Mum was upset on the phone one night. I came in and asked, 'What's going on?' She wouldn't tell me, and it ended in an argument. Then Dad came back a week or two later and he let me know. It was a tough pill to swallow.
"He had liver and pancreatic cancer. I can't remember where it started. But it was aggressive, and it was everywhere. He only drank once in his whole life – one can of Jack Daniel's and coke – and he got liver cancer. But I guess it can happen to anyone anywhere.
"He told me when he came over and then we started getting on with the season. In the middle of the year, he nearly died. The chemo and radiotherapy he was having turned him diabetic. When my dad used to feel tired or rundown, he used to have a can of coke, a Lucozade or a bar of chocolate.
"He was munching all this stuff because he was feeling down, and that made him feel worse. He was admitted to hospital, and they put him on a ward with a bunch of people who were on their last legs. I came down to see him, which I wasn't going to do. I was thinking, 'Oh no, he'll be alright.' Mum said, 'No, you need to come down. Your dad could die this week.'
"He started to come around, got better and he kept chipping away at his treatment, having his teas and coffees without sugar, which he hated.
"We did the rest of the year, which was cool. He got to see me win the league with Scunthorpe. We won everything in that first year in 2006. Then we won again in 2007 and I won the league with Rye House that year. In 2009, Wolverhampton wrapped up the Elite League title at Swindon, and he was there to see that.
"He got to see the majority that I had achieved. He just didn't get to see the more recent stuff."
It's a shame he didn't get to see your best years. From what you've said previously, it sounds like he was your best friend and mentor. You did everything together …
"Yeah, we did. We used to go to the beach together, go surfing together. We went on surfing trips to Bali. We did all the speedway stuff and rode motocross together. He bought a motocross bike and we used to go and ride in the sand dunes in Lancelin in Western Australia. We did everything together."
Woffy eyes even more success. PHOTO: Taylor Lanning
It's great that he got to see you become a Speedway GP rider when you were given a wild card for the 2010 season. Were there any concerns, from either your dad or you, about accepting that opportunity at the end of 2009, given that you knew he was likely to pass away in the coming months?
"From my dad's side, yes, but from my side, no. If you look at it from my point of view, I started at Scunny, progressed and won everything there. Then I went to the Premier League, progressed and won everything there. I went into the Elite League, progressed and won everything there.
"From 2006 to 2009, it was just an upward trend, so I just assumed that it would be exactly the same the following year.
"When Dad was really sick, we ended up having a hospital bed at the house. I remember being sat on the sofa and he was in the living room on his bed. He said, 'You're not ready for the GPs, mate. Don't do it. Now is not the time.'
"But I was a cocky, arrogant 20-year-old that thought my career was going to keep progressing the way it had been, so that was that."
Your dad passed away in January 2010. To what extent did that impact on the season that followed in Speedway GP? Was it a case of you not being ready or did losing your dad take its toll on the racing?
"I just wasn't ready for it. I wasn't ready physically, mentally, mechanically – I didn't have the correct team that I needed at the time. I didn't have the correct engines. My bikes weren't up to scratch. All these little things …
"We just did what we could with the money we had. I just wasn't financially ready that year to have the setup I needed to have a crack at it.
"I just thought with the way I was riding at the time, based on the years prior to that, the next year in 2010 was going to be the same."
Did the added spotlight that comes with being a Speedway GP rider make things any more difficult in 2010?
"The call-up just came at the wrong time. I couldn't have called myself an athlete at that time. I was a kid riding my motorbike for a living and having a very good time doing it, as in partying a lot. That's all I did prior to the GPs, and I continued that path. The GPs in 2010 were a good reality check.
"It was also the year my dad died. I missed him being there and I might have thought I needed him. I don't really know. I haven't really looked that deep into it.
"I look back and the year just wasn't what I thought it was going to be. To be honest, I didn't have any worse performances. My league racing plateaued, but it didn't get any worse.
"Obviously I got my backside handed to me in the GPs. Then I went back to Australia. I probably didn't deal with my dad's death until the end of 2010 – the end of the season.
"After having the year that I had, I had a pretty big breakdown when I went back to Australia. I was caught up with my mates, doing stuff I really shouldn't have been doing. It was a hard three months."
On his way to the 2010 FIM Torun Speedway GP semis. PHOTO: Jarek Pabijan
What then made the difference when you returned to Speedway GP in 2013? What elevated you to the level where you weren't just competing in the series; you were chasing the championship?
"It was a building process that started in 2011. It was a two-year building process of working on everything.
"On the Thursday before Cardiff in 2010, I got an engine from (tuner) Peter Johns. I rode that at Ipswich and got 12 points on it.
"Then I started my working relationship with Johnsy. I went all-in with him, and in 2011 and 2012, we worked on getting rid of all my Jawa engines and transferring over to GMs.
"Doing that in one big hit is quite expensive. I think I was riding GMs in Poland in 2011 and then GMs in Poland and Sweden in 2012. I was still riding the Jawas in Britain. Then in 2013, I was riding GMs everywhere and we upgraded the bikes and got them up to a suitable standard."
You started the 2013 season at long odds of 500/1 with some bookmakers to be crowned Speedway GP world champion. Am I right in thinking quite a few people did well after placing a bet on you?
"There were plenty of people who had money on me. I think (then Wolverhampton teammate and now double Swedish champion) Jacob Thorssell bought an engine with what he won.
"It actually happened by accident. He thought he had bet on me to win the first round in Auckland, but he actually bet on me to win the World Championship. I think he had had a few bevvies at the time! He didn't realise until later when he looked at it all. It was a good mistake really!"
Celebrating his 2013 title triumph. PHOTO: Jarek Pabijan
As 2013 progressed, it's fair to say you grew in confidence. But surely you weren't targeting the championship when the season started in Auckland?
"After 2010, I couldn't just roll into the championship and say, 'I want to win.' Finishing in the top eight, which would have given me automatic qualification for the following season, was the target straight off the bat.
"It's always good to set realistic goals that are achievable. Then once you achieve them, it's a milestone and you can set another goal and set another. If you set a goal that's too high and you don't achieve it, it's quite frustrating."
A key player in your Speedway GP racing team since 2013 has been Wolverhampton team manager Peter Adams. How important has his role been in your success?
"Pete is a great person to have in the pits. He was there for the meeting with me, Mum, Dad and Wolverhampton promoter Chris van Straaten, when I signed for Wolves as an asset in 2006. That was a long time ago.
"He kept his eye on me and saw me in second halves when I was practising. Then I rode for Wolves and won the league with them in 2009.
"When I got the opportunity to go back into the GPs in 2013, he reached out and said he would like to come with me, probably to keep me in line. Even though I was focused, fit and ready to go, I could still be easily led to go partying or have a good time at that point. It was good to have Pete there to pull the reins in a little bit.
"His knowledge of the sport is crazy. He has been around it for so long. I don't think people realise the achievements Pete has, the league titles he has won and the people he has worked with, world champions like Ole Olsen, Bruce Penhall, Erik Gundersen, Jan O Pedersen and Sam Ermolenko.
"He's a great person to be around. He is kind of like a father figure to me. After my dad died, I probably needed that. He was the person to be there."
Talking tactics with Peter Adams
After winning your first Speedway GP world title in 2013, you did it again in 2015. Was it easier the second time in the sense that you had done it once and knew how to do it?
"I did it in 2013 and I think if I prepared the same way in 2014, I probably would have done it again that year.
"I have to say 2014 was a tough one. I didn't want to ride in Britain, but Pete said, 'It won't look good if you don't ride in Britain after winning the world title.' I totally got that, so I did ride in Britain.
"But mentally, I didn't want to be there, and I was super fatigued. I had a silly crash at Eastbourne and broke my hand when I was in front. I just wheelied it into the fence. It was just fatigue from doing all the leagues and the GPs. I probably wasn't getting enough rest.
"That was a lesson learned and then in 2015, I just focused on Poland, Sweden and the GPs. We started the season off, and I was going alright. Johnsy did me another engine and I rode it at Vojens in the World Cup Race Off and got 21 points. After the meeting, I said, 'I don't really like that engine. Let's take it out and put the other one in.'
"Then about three weeks later, the boys told me, 'You scored 21 points at the World Cup on it. You should probably try and ride that engine again and see what you think.' That's the engine I rode from the middle of the season, and it was an absolute rocket ship. I couldn't make a start on it, but I could pass anybody on any track. It was incredible.
"My plan A was actually missing the start and passing everyone. Now my plan A is to make the start and get across them all, stop them and lead the race from the get-go. I knew I wasn't going to make the start in 2015, so my plan was to pass them all. The boys would ask me what my plan was from the different gates. I just told them, 'It doesn't matter. I'll pass them all.'
"It was just fast. I was about 4-5km/h faster than any of the other riders. There were a few races in 2015, when I went from last to first. Heat 19 at Cardiff was one and there were a couple in Krsko, Slovenia. It was good."
Lifting title No.2 in Melbourne in 2015. PHOTO: Jarek Pabijan
You then picked up title No.3 in 2018. You had a great battle with Poland's Bartosz Zmarzlik that year. You won the final two rounds of that season in Teterow and Torun to seal the gold medal and become Britain's first triple world champion. How did it feel to write this piece of history?
"We raced in Germany, and I won the GP, giving me a 10-point lead going into the last round. Everyone was doubting me because I hadn't won a GP for a while, but I won in Teterow and then I had a 10-point lead going to Torun.
"Having that lead at Torun may not have been enough under the old scoring format. Someone like Bartek could have gone out and scored 21 points around there and won every race.
"We got to Torun, and I had a crash. Karma bit me in the backside. About 10 minutes before that heat, I walked past Josh Gudgeon (from Monster Energy) and said, 'They had better engrave my name in the trophy.' He said, 'Shut up, mate!' Then I crashed. I think I was going to run into Doyley, so I spun it around to make sure I didn't crash into him.
"It was all good. Bartek went out and rattled off three heat wins. But by the end of the night, I had won the GP, won the World Championship and I still had a 10-point lead. It was a good night at the office."
Celebrating title No.3 with wife Faye and eldest daughter Rylee. PHOTO: Jarek Pabijan
That Torun victory remains your most recent Speedway GP win. But we saw you reach the OlyBet FIM Speedway GP of Latvia – Riga final last time out on August 12. Do you feel that next win is getting closer?
"I have had a few bad years. My life has been a little bit crazy. I have been living in different countries. I moved the family to Poland and then back to England again.
"There is always something going on in my life. I try to live my life to the full, and I will continue to do that. But I always put 110 percent into my racing.
"I have probably worked harder in the last 12 months than I have done in my whole career put together, trying to get back to where I can be. We are going to keep fighting until the season is finished and then hit the ground running next year."
You recently returned to Britain's Sports Insure Premiership with the Sheffield Tigers, replacing the injured Jack Holder. Do you feel this has helped you in terms of giving you extra race-sharpness?
"I don't know if the schedule will be too much. My schedule from now until the end of the season is ridiculous – absolutely ridiculous. I am racing every second day pretty much from now until the end of September.
"We will see how my recovery is and whether I can get some training sessions in. We will just keep chipping away at it."
Going for glory in Cardiff this Saturday. PHOTO: Taylor Lanning
In recent years, you have helped Great Britain taste success on the world stage as part of their 2021 FIM Speedway of Nations World Championship-winning team.
You suffered a broken leg in your last ride on day one of the Final in Manchester, with Dan Bewley replacing you on day two. But it must have been a special feeling to help the Brits end their 32-year wait for a world team title?
"One hundred percent – real fans of the sport know what that means to me. Every little move I have made through the media and social media and all the things I have done over a long period of time have helped get us to that point.
"For instance, I didn't race one of the World Cups (in 2017) as a protest to say that if something doesn't change, I am not racing. The fans started talking and the Great Britain Speedway Team thing came about. Suddenly then, Robert Lambert was on the world stage, the same as Dan Bewley.
"I helped Dan out a bit a few years ago and it was all geared towards winning a gold medal in the SON or SWC. To finally achieve it in Manchester was super special.
"It will say Great Britain world champions forever in the history books. It's a super special achievement and I think that's just the start."
GB won SON silver in Vojens in 2022 and Monster Energy FIM Speedway World Cup silver in Wroclaw in July this season. That's now three straight seasons in the world's top two. But from reading your social media post after the Monster Energy FIM SWC Final, is it fair to say you weren't satisfied with silver?
"What happened the other week in Wroclaw, missing out on gold, was unfortunate. I wrote a post on social media taking the blame for that after running two last places. I shouldn't have done that. But that's sport.
"The last thing I wanted as captain was for anyone to say anything negative about my teammates Adam Ellis or Tom Brennan. They went there, stepped up their game and did the best they could. I have broad shoulders and I can take the heat. It's not a problem."
The good thing about the current GB side is most of them are yet to hit their peak in the sport. Do you feel they have the potential to get even better?
"I have said before that we are just getting started. Poland has had a good run over the years, but I believe our run is just getting started. It's always hard to predict the future, but the future is definitely bright in terms of the team events.
"I don't know how many years we are away from where we need to be, but I like the look of Tom. I watched him ride around Belle Vue the other week and he looks good."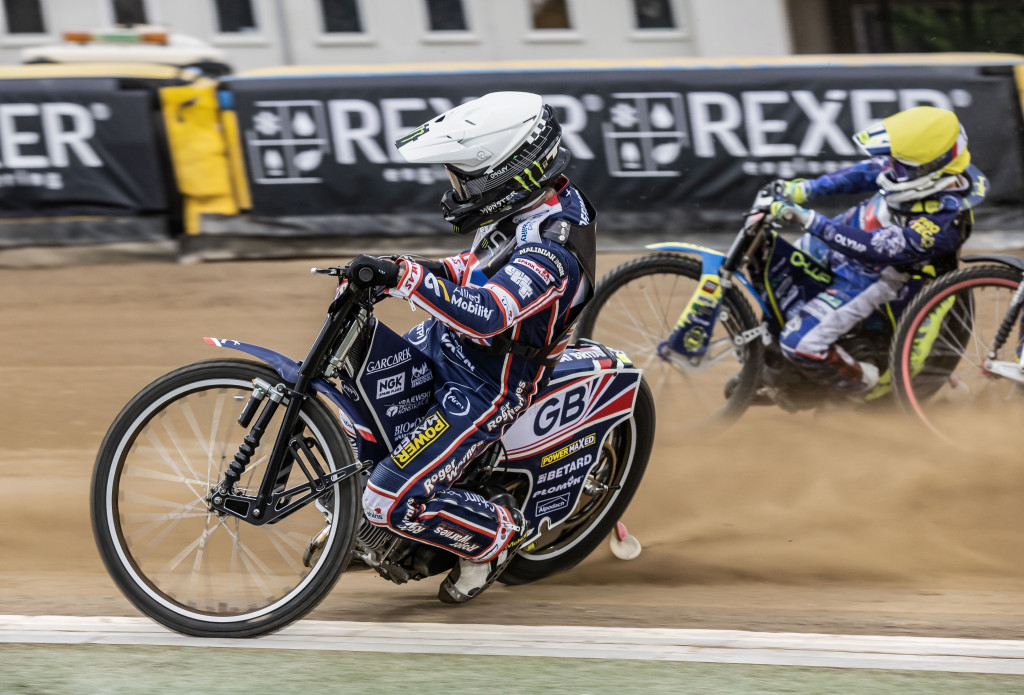 In GB colours at the Monster Energy FIM Speedway World Cup. PHOTO: Taylor Lanning
Still searching for Speedway GP world title No.4. PHOTO: Taylor Lanning