CIERNIAK LEADS POLISH 1-2-3 IN FIM SGP2 OPENER IN PRAGUE
02/06/2023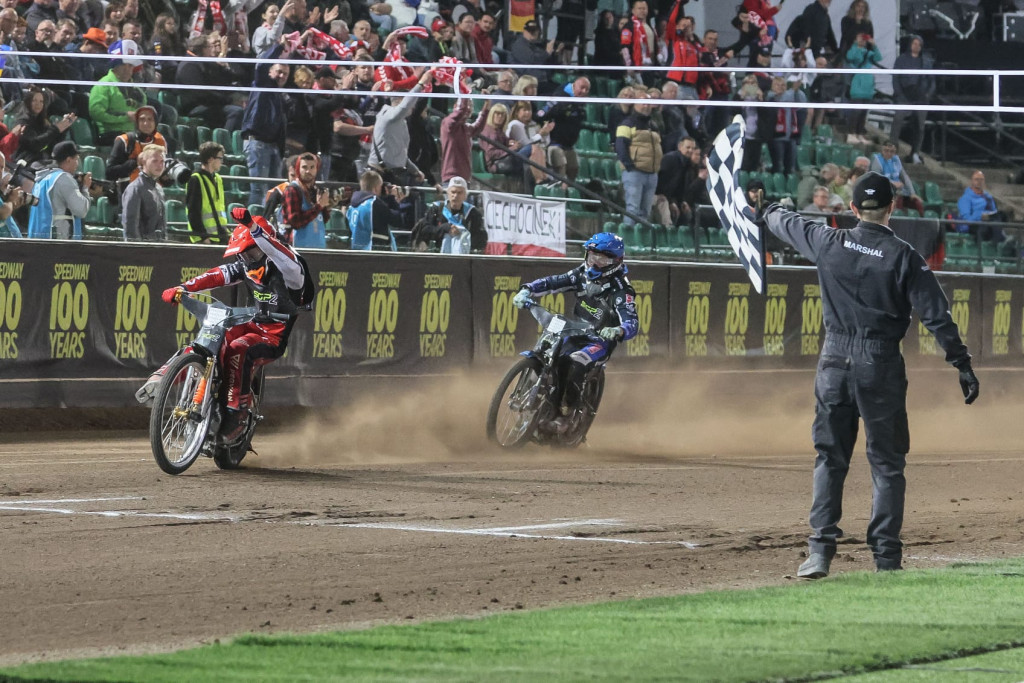 Poland's reigning FIM SGP2 champion Mateusz Cierniak overcame a heavy crash to lead an incredible Polish one-to-three on an epic night of racing at the Prague FIM SGP2 of Czech Republic on Friday.
Cierniak suffered a spectacular fall in heat 20 when his front wheel collapsed following a collision with Sweden's Philip Hellstrom-Bangs.
But after a quick change of bike, Cierniak hit back to win his semi-final and then the final ahead of fellow Polish shooting stars Bartlomiej Kowalski in second and third-placed Damian Ratajczak.
Norwegian racer Mathias Pollestad stormed to an impressive fourth place as he made history – becoming Norway's first rider to reach the top four in an FIM Speedway Under-21 World Championship Final event since former Speedway GP world No.4 Rune Holta won world junior silver in 1994.
But the night belonged to Cierniak, who admits his crash forced him into a change of bike that paid off big time.
He said: "It was a good day. Finally after a big crash I had to change my bike and after this, it was good. In the first and second heats, I made the start, but then I didn't feel fast enough on the bike. I had good starts, but I didn't have good speed. This crash helped me a little to decide to change the bike – I had to change.
"Then my start in the final was very, very great – definitely the best start of the night for me. I was looking at the big screen on the first corner and watching what was happening behind me. I think it's the best feeling for a speedway rider to be in front after a very difficult night."
Cierniak has now won an incredible three out of four FIM SGP2 rounds since the series was taken under the FIM Speedway umbrella by global promoter Warner Bros. Discovery Sports in 2022.
Having lifted the FIM Speedway Under-21 World Championship in 2022, he's determined to repeat the feat and follow Emil Sayfutdinov and Darcy Ward in becoming a back-to-back winner.
He said: "In this meeting, I was very focused. Before the season, I was very focused on this competition. I prepared for it very hard, and I have one destination. My destination is to hopefully get the same result as last year. Now I am heading in the best way."
Full report to follow soon ...