2023 FIM SGP2 LINE-UP CONFIRMED
24/05/2023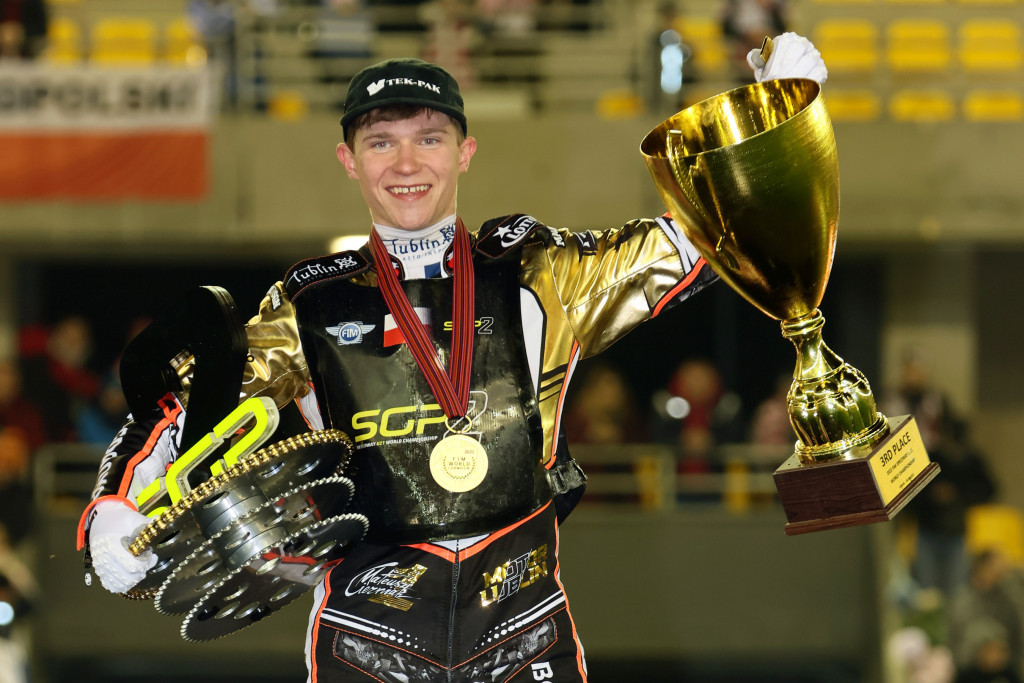 The line-up for the 2023 FIM SGP2 series has been confirmed with three permanent wild cards joining the 12 FIM Speedway Under-21 World Championship qualifiers.
As part of Warner Bros. Discovery Sports' vision to promote speedway's stars of the future, the sport's top under-21 riders will compete for the SGP2 title over three rounds – all staged on some of the world's top race tracks the night before an FIM Speedway Grand Prix event.
Round one takes place in Czech capital Prague on Friday, June 2, with round two at Gorzow's Edward Jancarz Stadium in Poland on Friday, June 23 and the finale at Denmark's famous Vojens Speedway Center on Friday, September 15.
In addition to the 12 riders who qualified for the series via last Saturday's qualification rounds, which include reigning SGP2 champion Mateusz Cierniak of Poland, Norway's Mathias Pollestad, Slovenian international Anze Grmek and Czech star Petr Chlupac join the field as permanent wild cards.
Pollestad becomes the first Norwegian rider to compete at the final stage of the competition since Bjorn G Hansen raced in the 2001 FIM Speedway Under-21 World Championship Final at Peterborough.
Grmek, 18, has appeared for Slovenia twice in the 2021 and 2022 FIM Speedway of Nations and now makes his SGP2 debut.
Meanwhile, Chlupac joins the line-up after finishing seventh in the 2022 SGP2 series, taking third place at last year's opening round in Prague. He also helped Czech Republic to the silver medal in the 2022 SON2 event – the FIM Team Speedway Under-21 World Championship in Vojens, Denmark on July 29.
The three wild cards come up against the 12 riders who made it through the qualifiers at Vojens, Czech track Pardubice and former FIM Slovenian Speedway GP venue Krsko last Saturday.
Cierniak is back to chase a second straight SGP2 title after qualifying in Krsko. He won last year's first two rounds in Prague and Cardiff, before sealing the title with third place at the final round in Torun, Poland.
Latvian star Francis Gusts, second at last year's opener in Prague, and Swedish duo Casper Henriksson and Gustav Grahn all join Cierniak in returning to the SGP2 line-up for 2023, with two of last season's substitutes Keynan Rew of Australia and Norick Blodorn of Germany both taking their place in the starting line-up this season.
Poland's Bartlomiej Kowalski will be keen to build on an impressive Orlen FIM Speedway GP of Poland – Warsaw performance, which saw him score four championship points and win a heat at PGE Narodowy on May 13. Damian Ratajczak joins Cierniak and Kowalski in flying the Polish flag in SGP2.
Two of the three SGP2 qualifiers were won by Danes, with Emil Breum booking his place in the series with victory in Krsko ahead of Blodorn and Cierniak, while Esben Hjerrild won his home round in Vojens. They are joined in the series by compatriot Nicolai Heiselberg.
Swedish racer Philip Hellstrom-Bangs returns to the world stage after lighting up the 2021 FIM Speedway of Nations Final in Manchester with a breathtaking battling performance against some of the world's top riders.
Like Speedway GP, each SGP2 round will feature one wild card rider and two track reserves, with the final three riders for the Prague FIM SGP2 of Czech Republic set to be announced very soon.
The substitute riders for SGP2 have also been revealed, with Ukrainian youngster Nazar Parnitskiy first in line for a call-up if any of the main 15 riders are forced out of a round due to injury, illness or other reasons.
Great Britain's Anders Rowe is second reserve, with Ernests Matjusonoks of Latvia third on the list. Denmark's Bastian Borke is fourth substitute, with Poland's Kacper Pludra fifth and GB racer Drew Kemp sixth.
2023 FIM SGP2 LINE-UP (in FIM ranking order with rider numbers):
161 Emil Breum (Denmark)
27 Keynan Rew (Australia)
94 Esben Hjerrild (Denmark)
33 Norick Blödorn (Germany)
243 Philip Hellström-Bängs (Sweden)
302 Bartłomiej Kowalski (Poland)
842 Mateusz Cierniak (Poland)
43 Casper Henriksson (Sweden)
140 Francis Gusts (Latvia)
63 Nicolai Heiselberg (Denmark)
118 Gustav Grahn (Sweden)
523 Damian Ratajczak (Poland)
999 Mathias Pollestad (Norway)
226 Anže Grmek (Slovenia)
44 Petr Chlupac (Czech Republic)
SUBSTITUTES:
785 Nazar Parnitskiy (Ukraine)
111 Anders Rowe (Great Britain)
38 Ernests Matjusonoks (Latvia)
716 Bastian Borke (Denmark)
212 Kacper Pludra (Poland)
118 Drew Kemp (Great Britain)